Commitment to Quality
Here at Heavy Seas, quality is the highest priority in every one of our endeavors. All of our beers are subjected to rigorous analysis to ensure their integrity. However, like most craft brewers, we are small batch producers, and some slight variation from batch to batch is part of the adventure. We stand behind every beer we make, and if you aren't happy, we aren't happy! If you are ever not pleased with our Loose Cannon, or any other beer we make, please let us know your thoughts by contacting us here: hsbeer.com/contact Please provide the following information:
Your name
Product
Batch Number (if possible ? located on the back label or can bottom)
Date Code
Location purchased (be sure to give us city and state)
Date purchased
Any questions or feedback
Someone will get back to you usually within 48 hours.
Hugh & the Heavy Seas Story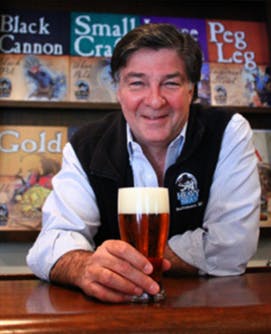 Beer takes us on adventures. It allows us to discover new flavors and exotic cultures. Our quest for great beer can lead anywhere, from corner pubs to faraway breweries.
For Heavy Seas founder, Hugh Sisson, beer altered the trajectory of his life.
In 1980, intending to become a stage actor and director, Hugh's plan was to move to NYC after completing his course work for a masters degree in theater. Hugh's father, Albert, a Baltimore area businessman, persuaded him instead to come "help" at a newly opened family business, a tavern called Sisson's. When Hugh showed up to start what he assumed would be a short-term position, his father tossed him the keys to the pub, said "OK, don't f*** up!" and walked out the door.
Hugh had spent a great deal of time in pubs during college and grad school, but until that point, his entire bar experience had always been on the consumer side. With Big Al's handoff of Sisson's pub, Hugh was abruptly faced with learning the "landlord" side of the equation.
Despite no business background, Hugh quickly realized he needed a way to differentiate Sisson's from other bars to give customers a reason to visit. Having studied in England in 1974, his eyes had been opened to traditional cask-conditioned ales, essentially unheard of in the US at that time. His pub and beer experiences abroad made him a fan of "better" beer, influencing his decision to make Sisson's into a beer destination. By 1982, Sisson's had the largest selection of beers in Baltimore and was Baltimore's first draft Guinness account.
The consumer's interest in beer was growing fast, so in 1984, Hugh and his father decided to explore the idea of making their own beer at the pub. Only a handful of brewpubs existed at that time in the US, so turning Sisson's into a brewpub was a groundbreaking concept. One big problem - brewpubs were illegal in Maryland.
Undaunted, the Sissons - under the tutelage of Senator George Della - introduced a bill in the MD Legislature in 1987 to legalize brewpubs. Much to their surprise, the bill passed on first attempt. Sisson's officially became Maryland's first brewpub in August 1989, with Hugh as the brewer.
Hugh remained at Sisson's until December 1994, when he left to form a new company, Clipper City Brewing Co., now home to Heavy Seas Beer.
Today, Heavy Seas produces 18 different beer styles and distributes in 17 states. Heavy Seas has become one of the most respected and award winning craft breweries on the East Coast. The company celebrates its 20th anniversary of business operations on December 8, 2015.
Brewery Expansion
Our expansion began in 2010 with the arrival of 11 new fermentation vessels and 3 new brite tanks over a two year period expanding our fermentation capacity by 160%. With the addition of these new tanks we can brew 45,155 gallons more beer every two weeks. In the summer of 2013 we installed a new 96,000 cubic foot walk-in refrigerator. This warehouse sized fridge will keep our beer as fresh as possible until it's shipped off to our distributors. In the fall of 2013 we began the demolition of two walls separating our warehouses in order to create a space for our new $2.7 million dollar state of the art bottling line. Beginning in February 2014, we started the destruction of our old tasting room to make room for our new brewhouse. Don't worry, we saved the bar!